Download Mediterranean Grib Files...
Get the Gribs
openWRF Grib Files
The openWRF Grib files offered here are produced by the operator of this site using a latest version of the WRF-ARW model. Gribs are offered in two resolutions 12km (5 days forecast) and 4km (2 days forecast). Gribs include: gusts; thunderstorm indicators; WAM wave data; and sea currents. We recommend using these Gribs.
Get the Gribs
openSkiron Grib Files
The openSkiron Grib files are made accessable from  the daily run of the Skiron model at the University of Athens. The Gribs have a 0.1 deg (11km) resolution and the forecast period is 5 days. WAM wave data (also from the University of Athens) is included.


...Or View openWRF Forecasts Online
Go To Wind-Wave
View Forecast Details For a Selected Location
The Wind-Wave application can display a meteo-gram and meteo-graphs for any location in the coverage of the openWRF model. Just select the desired region/model and move the pointer on the map to the desired locaiton. The table and graphs will show the forecast on the time axis for that point.
Go To Charts
View Meteo Charts for the Area Picture
The Meteo Charts show the openWRF meteorological parameters in chart format for each of areas that the model produces. The charts can be paged to advance through the forecast time-steps. This can be animated. These charts help see the wider forecast picture.
Limited Bandwidth?
Get light weight openWRF & openSkiron Gribs via saildocs.com to your email without the need to browse the web in low latency situations.
Gribs include wind and significant wave height only. Size is about 25% of regular Gribs.
Saildocs.com also features setting up a subscription to these Gribs.
Why regional models?
It is not only about higher resolution. Regional models are full physics models that have an advantage in modeling local weather phenomena and therefore complement the global models (such as GFS) that have an advantage in the longer term forecasts and in the synoptic scale weather.
Mediterranean weather is dominantly local weather driven and therefore regional modeling in the Med is needed.
Grib File Viewers
Grib files can be viewed in a variety of devices and software packages. Devices include PC Windows, PC Macintosh, Android smartphones and Pads and Apple iOS smartphones and iPads.
Software includes dedicated Grib viewers, navigational software and weather routing software. In addition several dedicated chart plotters can load Grib files.
Squall Indicators
openWRF forecasts include two thunderstorm / squall indicators - CAPE & Lifted Index.
These parameters are measures of atmospheric instability and help assess the potential of thunderstorms and squalls.
They are included in the openWRF Gribs and are also published in "Wind-Wave" and "Charts".
What it's all about
It's about the belief that quality weather resources should be free and open for the sailing community. It's also about the fact that free download of high resolution output from regional forecast models is not easily available.
Free and open download of high resolution GRIB files from regional models, is available on this site provided that the use is not commercial. The entire Mediterranean is covered with OpenSkiron and OpenWRF Gribs.
It is also about promoting the understanding of numerical forecast models and the importance of non-hydrostatic regional models for Mediterranean forecasts.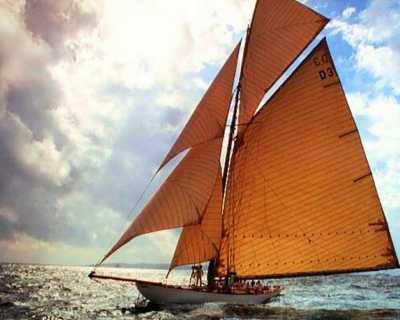 Credits
First and foremost thanks to Professor George Kallos of the University of Athens, Department of Physics, Atmospheric Modelling and Weather Forecasting Group. Professor Kallos kindly agreed to share the output set of the Skiron Arithmetic Forecasting Model as well as the WAM wave model. Link to the UOA forecast pages.
Thanks to Robert Rozumalski, the Wizard at NOAA/NWS Science and Training Resource Center for wrapping and supporting EMS-WRF in such a way that even a dumb sailor can set up and run a weather prediction model. Click here and find out what it is all about.
Credits to E.U. Copernicus Marine Service Information for freely providing Mediterranean sea current and wave forecasts and allowing generation of derivative sets. These forecasts are now included in openWRF Gribs.
Thanks to Associated Maritime Agencies Ltd. for providing a much needed server.